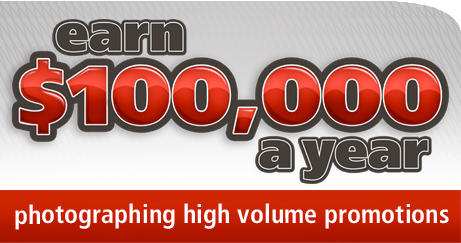 STUDIO-BASED PHOTOGRAPHERS
Make more money by adding a wide range of location-based volume photography promotions to your marketing plan. You'll reduce or eliminate the "slow time" between busy seasons, increase cash flow to pay down monthly overhead and add more PROFIT to the bottom line.
HOME-BASED PHOTOGRAPHERS
You don't need a brick-and-mortar studio to be successful. Many photographers that work solely ON-LOCATION doing VOLUME programs earn some of the biggest money in the the business! customers LOVE the convenience. Take your studio to them and reap the profits.
---

The comprehensive TWO DAY workshop will teach you all the basics to get started in the lucrative field of on-location photography of high-volume promotions. We'll be covering photography of schools, sports leagues, daycares and preschools, church & country club directories, dance schools and much more.
MONDAY'S PROGRAM
Monday's program will teach you the "secrets" of sales and marketing to high-volume clients. Learn how to plan and execute an effective sales campaign. Learn what to offer, how to present yourself and how to get them to sign with you. We'll even show you how to offer rebates and commissions back to the client for their fundraising needs - Without hurting your bottom line!
TUESDAY'S PROGRAM
Tuesday's program will focus on the technical and workflow side of the business. Learn high-speed photography posing and specialized lighting techniques and how to execute a flawless picture-day experience for your customers. Learn about automated barcode workflow that enables you to photograph over 500 clients a day with full identification and order data that can be readied for the lab in only a few short hours. Automated digital background replacement (green screen) technology will also be discussed.
TWO FULL DAYS. TONS OF PRACTICAL INFORMATION.
GET READY TO MAKE MORE MONEY!