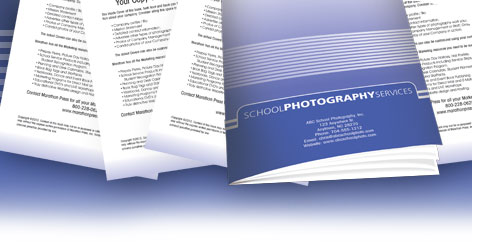 School Photography Marketing Books
Make a

great first impression

on potential
school portrait accounts!



These comprehensive marketing books are designed around the "Best Practices" in school photography. They make a great addition to your proposal packet and as a leave-behind piece for sales calls.





Available in both pre-produced generic and customized designs. Just add your studio contact information on the cover and you're ready to go. The insides of the front and back cover can also be personalized with your studio marketing information at no extra charge. You can modify the books to meet your specific needs without the usual expense of a "custom" project.





Three versions available with content specifically designed for use in Elementary, Secondary or combined K-12 for Private Schools or District Bid opportunities.





Finishing options include: three hole punch, wire-o-binding, bulk pack or collated sets are also available.