School Incentive Awards Packages
Marathon makes it easy to provide incentive packages to your schools and it's absolutely
FREE!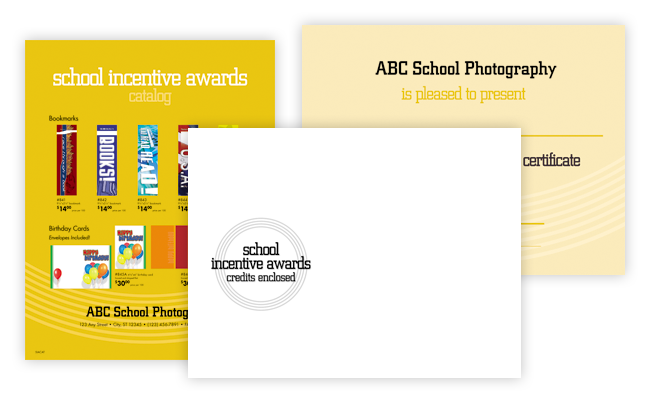 Incentive packages are a great way to gain new clients and satisfy the needs of existing clients by providing them with credits to purchase student recognition products they need for the upcoming school year. Many schools will often order additional products over and above their credits - which means additional revenue for you.
Marathon's School Incentive Awards Packet includes:
A full color product brochure featuring your business name and contact info, a product order form and Marathon's innovative bookmarks, birthday cards, recognition certificates, diplomas, and school badges.
A full color gift certificate featuring your business name.
A 9x12 envelope to enclose your personal letter along with the product brochure and certificate.
This essential sales tool is provided to you at NO CHARGE. Contact an account representative at 800/228.0629 and Marathon will provide you with one package per school. Then simply collect your client's orders and place your product order with Marathon. All orders are shipped to you or select drop shipping direct to your clients.
Need sample sales sheets to show your prospects? Not a problem. Marathon will also be happy to provide you with our full color School Incentive Awards catalog at no charge – each printed with your business name and contact info. What a great way to educate potential clients on the benefits of choosing you as their school photographer.
---
Digital Proof Program
Choose between a Direct Mail Option for .99¢ or Basic Proof Program for .40¢ each.
Contact an account representative at 800/228.0629 today.