Custom Photo Calendars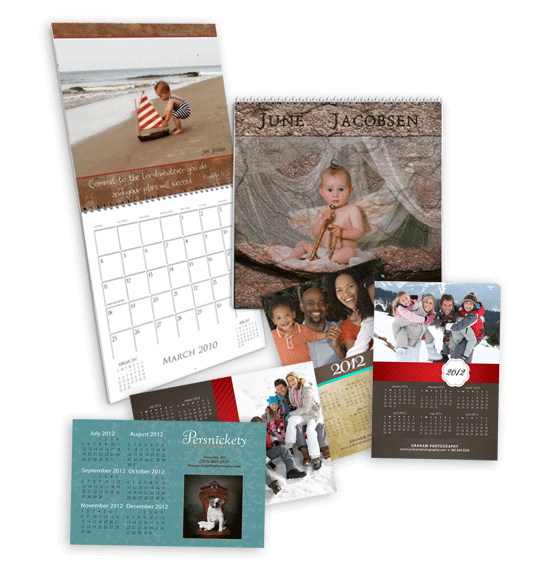 Showcase your photography with professional custom calendars from Marathon. Perfect as gifts for your valued clients. Partner with local organizations to offer calendars as a fund-raiser or sell to local businesses who need holiday gifts for their clients: Either way, your work will be seen day after day throughout the year in the homes and offices of potential clients!

11x8½ and 8x8 Wall Calendars
Printed on 80-lb. cover stock, these beautiful calendars present a full-bleed image above a full-page calendar—available in your choice of 5 different grid styles. Or create your own custom calendar grid and drop it in our template. Calendars are bound with your choice of black wire-o coil or saddle stiched. The front and back covers are flood UV coated for durability and extra sheen.
File Specifications
300ppi RGB JPG at maximum
Image Size, full bleed size:
11x8½ Calendar: 11.25 inches x 8.75 inches
8x8 Calendar: 8.25 inches x 8.25 inches
5x7 Mini-Calendars
Mini-Calendars feature 6 months on each side of a 5x7 card and contain an area on each side for images. They can be printed on your choice of stock: Gloss, Matte, Linen, Watercolor or Pearl.
to order




Promotional Calendars also available.
Calendar Pricing (One Off) | 2-3 Day Turnaround and Free FedEx Ground Shipping At the Store.MarathonPress.com
Quantity
1
2
3
4
5
6
7
8
9
Add
for
Pearl
*Free Shipping | 2-3 Day Turnaround
12 Month
$18.75
$34.75
$51.75
$68.75
$85.75
$102.75
$119.75
$128.75
$144.75
--
18 Month
$23.50
$46.50
$69.50
$92.50
$113.50
$135.50
$157.50
$179.50
$198.50
--
Calendar Pricing | 2-3 Day Turnaround and Free FedEx Ground Shipping At the Store.MarathonPress.com
Quantity
10
15
25
50
100
250
500
750
1,000
Add
for
Pearl
*Free Shipping | 2-3 Day Turnaround
12 Month
$153
$190
$263
$443
$805
$1,892
$3,703
$5,522
$7,341
--
18 Month
$216
$269
$374
$636
$1,161
$2,946
$5,361
$7,994
--
--
5"x7"
--
--
$29
$40
$67
$137
$253
$370
$486
7¢ each
MAP Member Pricing

(What is MAP?)

Quantity
10
15
25
50
100
250
500
750
1,000
*Free Shipping | 2-3 Day Turnaround
12 Month
MAP Pts
25
32
44
73
134
314
614
614
614
+Dollars
$0
$0
$0
$0
$0
$0
$0
$1,746
$3,492
18 Month
MAP Pts
36
45
62
105
192
488
889
889
889
+Dollars
$0
$0
$0
$0
$0
$0
$0
$2,528
$5,054
5"x7"
MAP Pts
--
--
5
7
11
23
42
42
42
+Dollars
--
--
$0
$0
$0
$0
$0
$112
$224


---


Calendar Grids