Jeff and Julia Woods
...something urban chic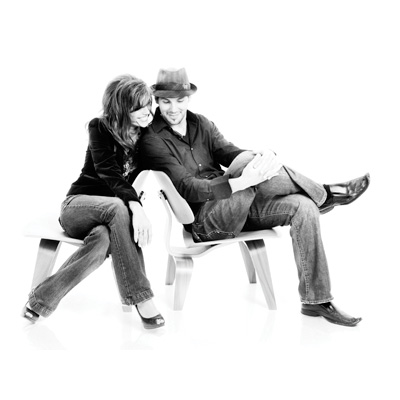 Who we are...
Located in Washington, IL / population 12,000 / between Chicago and St. Louis.
In business for 11 years
Own storefront space (approximately 3000 sq. ft.) in a historical downtown square.
Jeff and Julia plus 3 fulltime employees and 1 part-time employee
What we do...
We want our clients to be wowed as we provide them with a once-in-a-lifetime experience, while creating one-of-a-kind modern art pieces with their lives as our inspiration.
Everyday life is full of beauty and art. At portraitlife we want to capture the art in our clients lives.
We educate ourselves on what our client's lives are about and what their homes are like. From there we custom design art pieces that enhance their lives and their décor.
Our Target Market and Product Mix...
Weddings
Our ideal wedding client is a female in her early- to mid-thirties, who is well established and who values photography as one of their top priorities among their wedding vendors.
Portrait
Our ideal portrait client is a mom with 2-4 children at the middle school age, who values art and likes exclusive things.
Our business is 25% families, 15% engagement sessions, 10% children, 10% high school seniors, and 40% weddings. We work with simplified packages and then add on framing and customized art pieces for our client's homes.
What sets us apart…
We are known for creating the uniqueness of each client. We want to capture who our clients are, not a pose that worked for another client last week. When our clients look at their images hanging on their walls, we want them to be taken back to the joy and emotion they experienced at that moment the photograph was being taken.
Weddings
We offer custom design wedding albums complete with vellum pages and textured metallic pages.
Portraits
We offer custom pieces including things like a collection of images presented on a 6 ft. shelf or a collection of 5 canvas gallery wraps complete with embellishments and grunge overlays. Everything is all based on the client's tastes and desires. We start with a planning session and enable our clients to dream of the display possibilities. Once they see the many options and decide what works for them, we then photograph with that concept in mind and have their display choices ready to view in the sales session. They feel a part of the creation from the beginning. They can't wait to get the finished results on their walls.
Products...
Below is just a sampling of the products Jeff and Julia have developed especially for BellaGrafica. Additional products will become available over the next several months.
Studio Newsletter
Spiral-bound Desk Calendar
Senior Catalog/Image Marketing Booklet