Sarah Petty
...something whimsical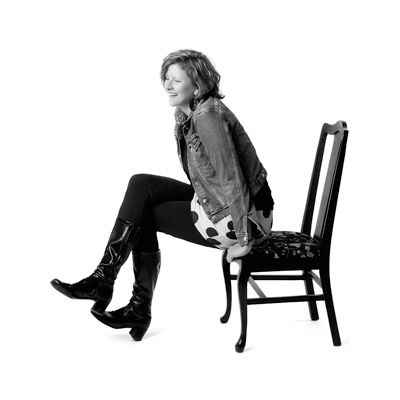 Who we are...
Located in Springfield, IL / population100,000 / between St. Louis and Chicago.
In business for 5 years.
A rented storefront studio space (approximately 1,500 sq. ft.) in an upscale, retail location.
Sarah (me) plus two full-time employees
What we do...
When we see three kids under five coming in the door, our adrenaline kicks in! Our entire studio is set up to capture the magic of children: there is nothing for them to touch or break; our lights mount to a track on the ceiling; and we have a treasure chest, a trampoline and other goodies to ensure success with every session.
We describe our business as one that creates heirloom artwork for families to enjoy, and all of our pieces are fully guaranteed.
We educate clients on how to decorate their homes using our artwork as inspiration. Everything larger than 8x10 is framed, so we invest a lot of time making sure everything is perfect for their decor.
Our target market and product mix...
Our ideal client is someone with several kids who values art and photography and believes in investing in heirloom-quality work.
Our business is 75% children (including family relationships); 20% seniors; 5% weddings. We have a very simple product mix so our clients can focus on their love of the images, not on translating our rates. We offer framed wall portraits, several framed collections, a few specialty products (canvasses and hand-painted frames) and small prints.
What sets us apart...
People know us for a spontaneous and whimsical style of children's photography. From the very beginning, we invested in creating a strong brand and teaching consumers why our work is unique and valuable. All of our wall portraits include conservation, heirloom framing so we make sure that the portrait is framed correctly and will last a lifetime.
Must-have products include large canvasses with words around the wrapped edge; hand-painted, whimsical frames; black and white relationship images. We stress to parents that although they may be critical of their own appearance (as we all are), when their child looks at them, they see the most beautiful person in the world. I want everyone to celebrate this unconditional, never ending love.
Products...
Below is just a sampling of the products Sarah has developed especially for BellaGrafica. Additional products will become available over the next several months.
24 Month Promotional Calendar in Plastic Case with Belly Band
Co-Op Marketing Invitation - Die Cut Card Carrier with Insert
Image Marketing Booklet