Tim and Beverly Walden
...something elegant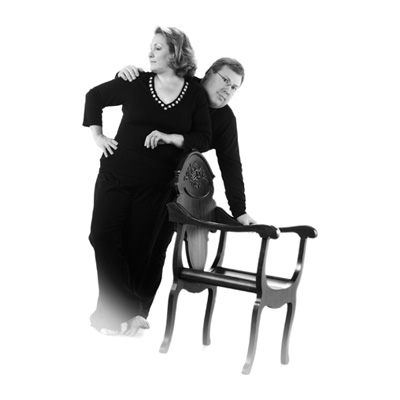 Who we are...
Located in Lexington, KY/population 300,000/Lexington is the "Thoroughbred Capital of the World"
In business for 28 years and are both business partners and life partners!
We built a new, custom-designed 3200 square-foot studio in 2005 in an upscale office condo development.
Tim and Bev have 2 full-time employees plus 2-part-time employees.
What we do...
For over a decade, we have branded ourselves as fine-art black-and-white photographers who focus on "Relationship" portraits, stressing the importance of capturing feelings over function. Our "Color Study" portraits fill the classical niche for those who love a more elegant, rich look.
Our philosophy is to WOW every client and provide them with a magical experience that will keep them coming back time after time. Perfectly executed customer service is stressed to our employees as we heavily depend on the two "Golden Rs"…repeat and referral.
Our studio is a full-service studio that offers custom framing of all wall portraits as well as matting and framing of the fine-art black-and-white portraits. We do all of our printing in-house to control the final outcome.
Our target market and product mix...
Our main clients are babies, children and families as well as expectant parents. Our target clients are professionals with young children who love portrait photography and have the income to purchase our pieces.
"Relationship" black-and-white portraiture continues to be the most popular style we offer, however, we also have a strong market for our Color Studies. Beau Visage, our new division that offers painted portraits, is making a strong entrance into our community and gives our clients an additional style of portrait to purchase. The Senior 17 market is robust as well and growing at a rapid pace. We have an associate in training at all times who is in charge of the high school senior division of Walden's.
Our products are tailored to the line of portraits our clients choose. We have a more contemporary line of products for our "Relationship" black-and-white portraits to match their feel, while the Color Study line has elegant canvasses available. We offer several styles of canvasses that are interesting and new in the marketplace. Our goal is to sell a wall grouping first and then offer the products that use multiple images.
What sets us apart...
We have learned to understand and see our clients' relationships with each other, and we capture that in our photography. In other words, we are big saps!
Our area knows us for the "Relationship" black-and-white portraiture, but more than that, we are known for over-the-top customer service, a grand facility that is both beautiful and comfortable, kindness to every client and work that exceeds expectations. Our bottom line is excellence in all we do, and our clients know that.
Unique presentations of our work that have both a lasting quality yet contain a contemporary flair are a trademark of Walden's. Clients are always coming in to see what's new as we are continually upgrading and changing!
One-on-one marketing, or making each client feel as if they are our ONLY client, is a huge key to setting us apart. Our clients know they are super-special to us, not just a "number."
Our most popular products are the matted, black and white "Relationship" portraits and "Color Study" canvasses framed in 5-7-inch mouldings as well as our Showcase sets of matted images on easels.
We use Suggestions to sell our work as a complete and well-thought-out investment for our clients' homes.
Products...
Below is just a sampling of the products Beverly and Tim have developed especially for BellaGrafica. Additional products will become available over the next several months.
Studio Newsletter
Studio Identity Package