Vicki and Jed Taufer
...something eclectic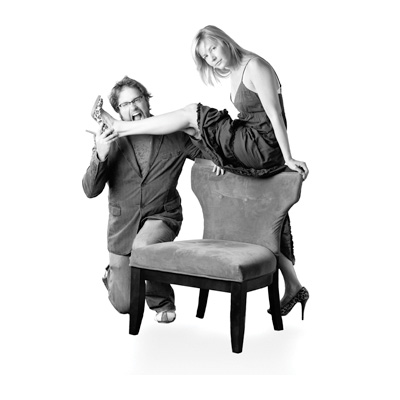 Who we are...
Located in Morton, IL / population 17,000 / between St. Louis and Chicago.
In business for 7 years.
A purchased studio space (approximately 7,000sq. ft.) in a completely renovated building on Main Street.
Vicki and Jed plus five full-time employees, one other part-time photographer and an intern
What we do...
Our focus at V Gallery has always been creating an experience unlike any other. Our studio was designed to be a "boutique studio" from the beginning over six years ago. We've put a tremendous amount of effort into creating a space that is warm and welcoming. It's a place where someone can feel comfortable and relaxed.
We describe our work as timeless, elegant and eclectic without being traditional or uptight. Our clients are able to enjoy their imagery for years, as it transcends the trends.
We also spend a lot of time educating and consulting other photographers. Whether we are on the road speaking at conventions, at our studio hosting workshops, or even on the phone going over our educational materials, we put a significant effort into helping others the way we have been helped.
Our target market and product mix...
Our ideal client is someone who appreciates our work and the experience that we can offer—regardless of their financial status.
Our business is primarily focused on children, families, and high school seniors. We offer weddings on a limited basis.
We offer several products in many price ranges, but our pricelist is set up in a very simple, straightforward manner with a la carte wall portraits and additional collections to sell our boutique products.
Framing is a significant part of what we offer, since our goal is to provide a finished product and complete experience. We have several different options ranging from contemporary to elegant.
What sets us apart...
What sets us apart is how we treat our clients. They are given an experience at V Gallery that they simply cannot get anywhere else. Our goal wasn't to create a space that one would see in a much bigger market such as Chicago or New York, it was to create a space and offer an experience that you can't find anywhere else.
At V Gallery, we are who we are. Often times we forge strong relationships with our clients because for us, owning a photography studio has become more than work, it's really a part of who we are as people. Our clients know that we are genuine, and they appreciate that.