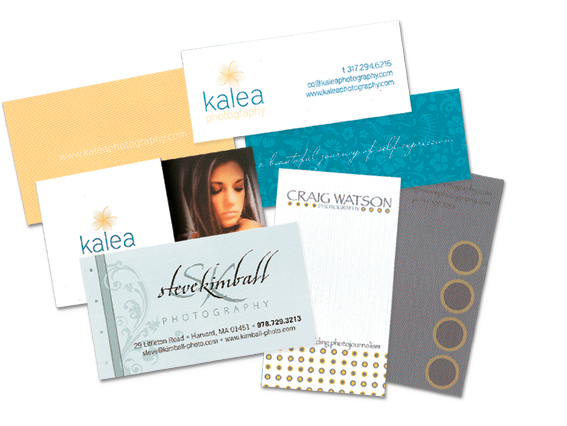 Press Printed Business Cards
For savvy studio photography marketers, it's all about how design can make a press printed business card so interesting that those who receive it don't want to let go of it. Choose from one of our templates shown below or design your own custom press printed business card to help make your photography studio really stand out.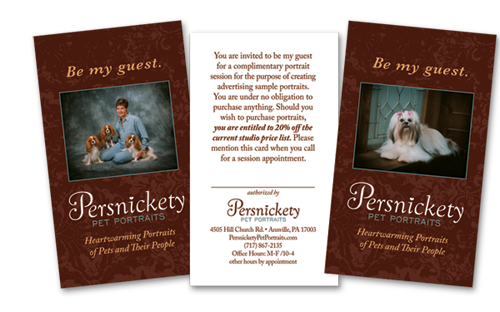 Be My Guest Cards
Photographers often come in contact with subjects they would like to photograph for any numbers of uses, including studio photography samples, competition prints, or simply to practice new techniques. Offering a Be My Guest card is an excellent way to break the ice and establish your credibility and motivation in offering a free session to someone whom you have just met.
Be My Guest cards include free shipping and 1 day turnaround at the Store.MarathonPress.com.

Additional Sizes Available Learn More
Business Card and Be My Guest Card Pricing | 1 Day Turnaround and Free FedEx Ground Shipping At the Store.MarathonPress.com

Quantity

25

50

100

200

300

400

500

600

700

800

900

1,000

2x3.5 Flat
Pricing

$21

$24

$32

$44

$56

$68

$80

$92

$104

$116

$128

$140
Business Card and Be My Guest Card | MAP Member Pricing

(What is MAP?)

| Quantity | 25 | 50 | 100 | 200 | 300 | 400 | 500 | 600 | 700 | 800 | 900 | 1,000 |
| --- | --- | --- | --- | --- | --- | --- | --- | --- | --- | --- | --- | --- |
| MAP Pts | 3 | 4 | 5 | 7 | 9 | 11 | 13 | 13 | 13 | 13 | 13 | 13 |
| +Dollars | $0 | $0 | $0 | $0 | $0 | $0 | $0 | $10 | $21 | $32 | $43 | $54 |
---