Move your photography business to the next level through a private one-on-one strategic photography branding consultation and affordable custom marketing products that get your photography business noticed!
Nothing enhances the image of quality, value and professionalism of a photography studio more impressively than skillfully branded photography marketing materials and products that present an appealing and consistent marketing message. Marathon's graphic artists are experts of both printing for photographers and websites for photographers, so we can create a comprehensive design style for your business to get your photography noticed by the consumers you wish to reach.

Photography Branding
Essentials Package Two
Photography Branding
Essentials Package Three

1 Custom Photography Logo Design
1 Marathon Website for photographers
1 Marathon Blog for photographers
1 Shopping Cart for photographers
12 Months of Hosting for photographers (for the Term of the Program)
200 Press Printed Teeny-Tiny Brochures
Get the design, brand and marketing pieces you've
always wanted for only $99 per month.

Custom Photography Logo Design

Your logo is a design symbolizing your professional portrait studio. It will be used on every piece of printed or electronic advertisement and it serves as a visual mark to identify your company product and/or service. learn more

Custom Press Printed Note Cards

A must have with most studios. Use them to write thank you notes, personal invitations and promotional correspondence. Your brand, your words, great combo. learn more
Press Printed Be My Guest Cards

This business size card offers a complimentary session to the people you qualify personally. Use them in any situation that enables you to introduce yourself with a verbal invitation to try your studio with no obligation to purchase anything. The idea behind this is to create fresh samples for future advertising material as well as grow your business with new customers! learn more

Press Printed Teeny-Tiny Brochures

These are very popular to use as a promotional tool as well as an overall awareness piece. Use this in addition or in place of a traditional business card. Its interactive design greatly enhances the recipient's experience over a traditional flat card and increases customer retention as well as brand recognition. learn more

Press Printed Studio Brochures

Show you're a specialist with a brochure. You can say more, show more, and the interaction of the piece continues to keep selling you even when you're not with them! learn more

Press Printed Studio Information Folders

Think of this as your PR Kit. It will be used to hold any printed material such as your price list, brochure or business card. It can be personalized by changing up the material you insert into it that supports your message, such as a proposal to network with other businesses, secure a contract or impress your potential photographic customers. learn more

Premier Website for Photographers
Create an engaging web presence with a Marathon Press Premier website. Your website represents your photography as well as your business. It should be easy to navigate for the client and able to be viewed on various devices. Check out the many options you have with our selections and wow your customers. learn more

Blog for Photographers
Your social media strategy is important. Your Facebook, Twitter and YouTube posts should all guide people to your blog. A blog that is updated regularly with the right content helps you rate higher in search engines as well as keep people coming back. No studio should be without a solid blog page. learn more

Press Printed Marketing Cards
This is a communication piece to share your message about your business, a promotion or a service. It can be designed to be used as a mailing piece or a handout at your studio, a community display or at a home show, etc. learn more

Photography Packaging Collection
Successful studios today know that you have to wow your customer in every way and packaging sets you apart to provide an emotional satisfaction as well a professionalism that takes your studio to the next level. learn more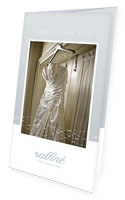 Press Printed Big-Impression Brochures

Make a big impression through size and impact. Perfect for setting yourself apart from the competition and when you want to impress a more discriminating customer. Great for in-studio consultations, networking proposals and more. Highlight your overall studio message or prove you're a specialist with this beautiful prime-time image piece.